Norcross Art Splash & Wine Festival will splash into the streets of Historic Downtown Norcross on Saturday October 5th, 10AM - 6PM, and Sunday October 6th, 11AM-5PM . Ninety artists from across the country will show off their talents with folk art, ceramics, paintings, photography, mixed media, fiber art, metalwork, and of course, jewelry...lots of sparkly bling!
Join us again for the second year of the Wine Festival which will feature fifty wines from around the world under a large tasting tent in the middle of the festivities. Tickets are available for shifts beginning Saturday from noon to 2pm and 2pm to 4pm and Sunday from 12:30pm to 2:30pm and 2:30pm to 4:30pm. To enhance your experience, tickets are limited, so purchase your tickets in advance for $35 (plus service fee) at Freshtix. If any tickets remain for the weekend, they will be $45.  When you fall in love with any of the wines, all will be available for purchase during the weekend at the downtown shops of VSOP and 45 South Cafe. We'll have a convenient pick up location where you can bring your vehicle to pick up your purchases!
The exciting festival draws crowds of 20,000 festival goers each year, and the charming downtown streets of Historic Norcross create the perfect backdrop to sip wine, shop, grab a street-eat and listen to live music on the Thrasher Park stage. The charismatic area is known for its enchanting shops and eateries - and of course, the train, which rambles along the tracks saying "hello" to visitors and neighbors.
Attending Norcross Art Splash & Wine Festival is the ideal way to welcome in the fall season, In addition to the artist market, wine-tasting venue and live entertainment, the lively Kidz Zone awaits children of all ages with face painting, sand art, and energetic inflatable rides.
The true superstars of Art Splash are the volunteers that treat all of the visitors as welcomed guests—these generous people are the reason Norcross Art Splash & Wine Festival will continue to be a part of the City of Norcross - A Place to Imagine. CLICK TO SIGN UP TO VOLUNTEER WITH US.
Festival Map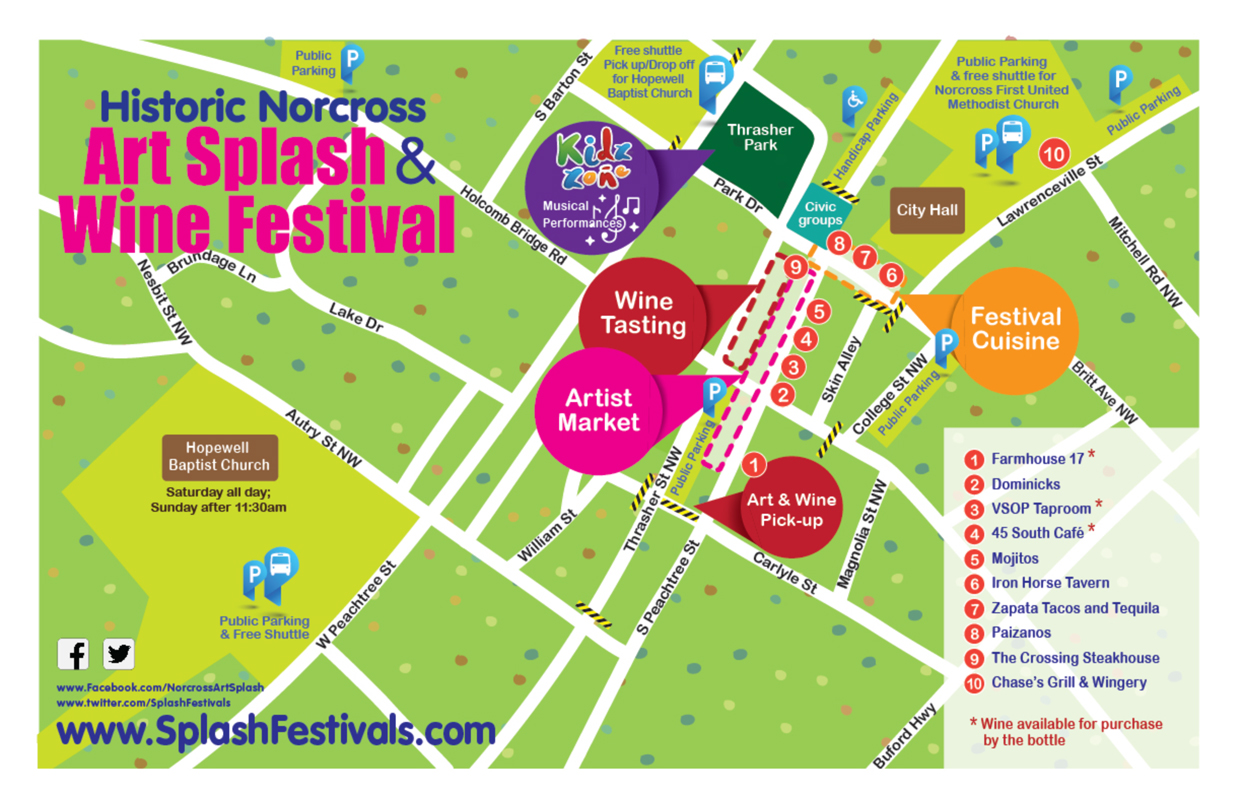 Festival Schedule
Saturday, October 5
Check back for details!
Sunday, October 6
Check back for details!