Acworth Art Festival
What to Know Before You Go
Location
Join us on the streets of Historic Downtown Acworth. All streets through the downtown area will close at 4AM Saturday, April 6 through 9PM April 7. In your GPS, enter 4415 Senator Russell Blvd., Acworth, GA 30101 or Click Here for a Google map.
Admission
FREE
Festival Hours
Saturday, April 6, 10AM to 6PM. Sunday, April 7, 10am to 5pm.
Festival Cuisine
What will you find to eat at Acworth Art Fest this weekend? Gourmet corn dogs, Jerk chicken or pork, rice and peas, steamed veggies, Mac n cheese, grilled sweet potatoes, island lemonade, tacos on fresh made corn tortillas (grilled steak, braised chicken or fried tofu) served with fresh chips and homemade salsa, nachos with Queso cheese made with fresh fried corn tortilla chips and homemade salsa, Chicharrones, grilled street corn, Mexican chocolate cinnamon rolls, crab cakes, grilled cheese melts, grilled cheese donuts, soups, fries, BBQ pork, chicken, Polish sausage, hot dogs, ribs, Mac'N'Cheese, BBQ beans, Cole Slaw shaved Ice, Ice cream, milk shakes, freezes, fresh squeezed lemonade, kettle corn, roasted nuts, funnel cakes, pop corn, cotton candy, fried Oreos, hot boiled peanuts, gourmet popsicles, mini-donuts (with various toppings) and caramel apple slices, and of course, beer and wine. Don't forget about all of the great restaurants along the downtown strip!
Pets
We are a pet-friendly festival. All pets must have their owners on a leash.
Parking/Transportation
Ample free parking is available throughout the downtown Acworth area. Download the Public Parking Map for locations of all downtown public parking.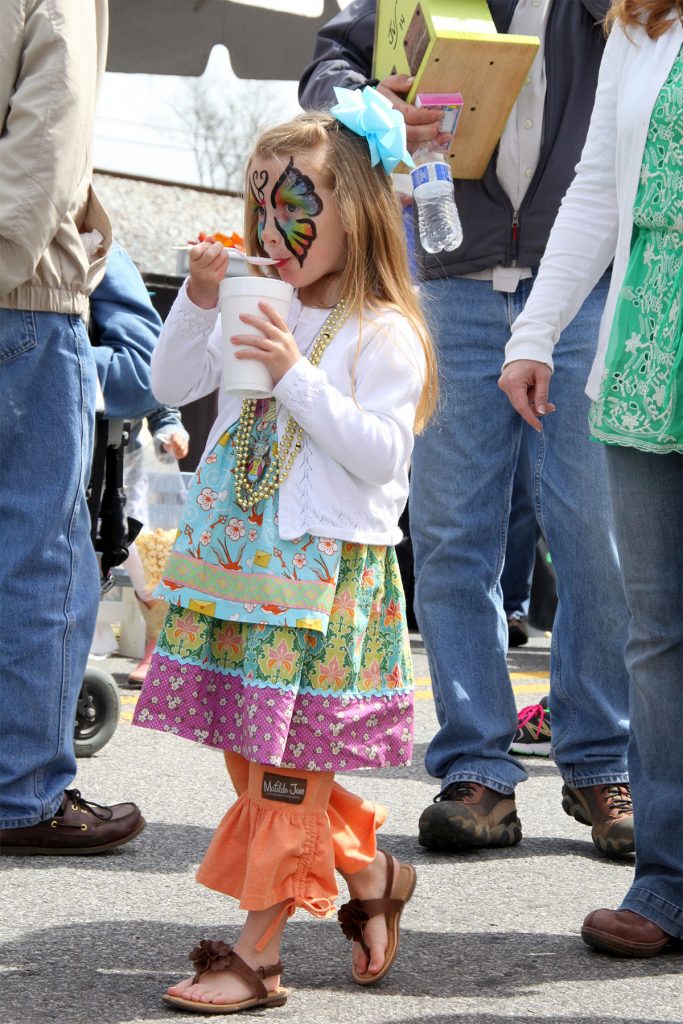 Parking for Those With Disabilities
Parking for visitors with motor scooters or wheelchairs is available nearby at City Hall, 4415 Senator Russell Ave.
Festival Amenities
To ensure your time at Acworth Art Fest is enjoyable, we offer the following services for our guests:
ATMs: ATMs are available in the Kidz Zone. Look for the ATM flags or ask any Art Fest staff member.
FIRST AID: First Aid is located at the Art Fest Headquarters in City Hall.
LOST & FOUND: Lost and Found is located at the Art Fest Headquarters located in City Hall.
RESTROOMS: Restrooms are available on Dallas St. and in the Kidz Zone.
Children's Activities
Kidz Zone is the Place!​
Frana Brown Park in downtown Acworth will be transformed into a magical creative escape for children. Join our friends from The Art Station – Big Shanty in Kennesaw in the enchanting journey of art and imagination in our Creative Crafts area of the Kidz Zone. Art and craft surprises, face painting, sand art and more, more, more await! For more information about The Art Station – Big Shanty, check out www.artstationcobb.org or call 770-514-5930. The Kidz Zone will once again be hopping with inflatable rides and the Spider Jump. Be sure to plan for a fun-filled day at Acworth Art Fest!