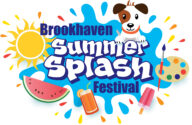 Each day, we stay vigilant as we monitor the latest information from the CDC and other health organizations about the status of COVID-19.  Safety is our number one concern for our artists, vendors and visitors.  We look forward to showcasing something very special for the Brookhaven citizens and neighbors on August 29 & 30, and we all can safely enjoy ourselves again with friends and family outdoors! Here's a sneak peek at what we have up our sleeves!
What do you get when you mix sun, fun and a ton of great things to do?  You get the new Brookhaven Summer Splash Festival. Conveniently located in the picturesque and very green Brookhaven Park, 4158 Peachtree Road NE, this event welcomes great artists, energizing children's inflatables and activities, tasty festival food trucks and eats, as well as pet-friendly happenings!
Nestled right off Peachtree Road (lots of those in the Atlanta area) and minutes away from great parking, this new celebration of summer has everything for families and those who love to shop and eat yummy savory and sweet goodies – and adult beverages!  Make this your yearly go-to place, right before school starts for the kiddos!